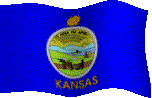 Please enjoy your stay and be sure to visit these links:
Legislative Newsletter
Personal Information
Information Network of Kansas
Demographics 105th District
Kansas Geological Survey
Kansas Weather
The White House
Electric Postcards
C-SPAN
Smithsonian
U.S. Legislative Branch
National Geographic Online
Kansas City Board of Trade
Chicago Board of Trade
Rep. Jerry Moran
Rep. Todd Tiahrt
Sen. Pat Roberts
Sen. Sam Brownback
"Hello and welcome to my homepage. It is an honor to serve the people of the 105th District and the people of Kansas in the House of Representatives. "
This Page Best Viewed Using ...

© 1996, 1997,1998 Cyber Lodge Internet Services. All rights reserved. Any copying, redistribution or retransmission of any of the contents of this service without the express written consent of Cyber Lodge Internet Services is expressly prohibited.