(click "Medicine Lodge" to return to home page)
Links to pages on various Industries located in and around Medicine Lodge, Kansas.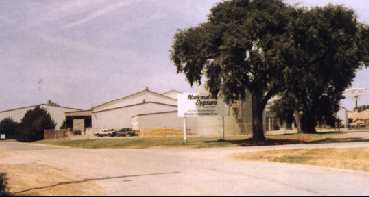 National Gypsum Company
National Gypsum Company is a fully integrated manufacturer and supplier of products and services used world wide in building and construction, with primary emphasis on National Gypsum brand gypsum wallboard and related products.
The Medicine Lodge/Sun City facility is one of the largest of its 28 gypsum operations. Local employment totals 130 people with an annual payroll exceeding 2.8 million dollars. For more information about National Gypsum Company in Medicine Lodge email Plant Manager Greg Whelan
In addition to servicing markets in Kansas and surrounding states, wallboard plaster and specialty products are shipped from coast to coast and exported to Canada. Transportation services are provided by four trucklines with local terminals, various independent trucklines, and by railroad.
Presently, approximately 1.3 million square feet of wallboard and 130 tons of plaster products are produced daily. The Sun City mining operation provides rock for the plant wallboard and plaster operations

V and S Railway serves the area as a transportation provider for National Gypsum. The railroad as well as local trucking companies ATI and Magill, along with SMX Trucking and STI Trucking (National Gypsum's house carriers), ship finished gypsum products from the plant to various locations around the country.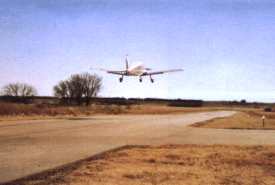 Medicine Lodge Municipal Airport
The Medicine Lodge Municipal Airport is an unattended facility adjacent to the Medicine Lodge Peace Treaty Grounds. Two turf runways and one paved runway, allow the airport to accommodate small jets such as the King Air. At an elevation of 1543 feet, the airport is host to home-based ultra-lights and visiting pilots who fly in for business related to agriculture or minerals and for the more daring souls who fly in for weekend hunting on some of the larger ranches in Barber County. E-mail at cityclerk@cyberlodg.com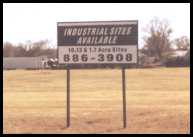 Medicine Lodge Industrial Park
The Medicine Lodge Industrial Park, adjacent to U.S. 281, has vacant sites available for development. All utilities are on-site. Businesses are eligible for incentives such as those offered in Enterprise Zones and under the Neighborhood Revitalization Program. A tax-abatement policy is in effect in Medicine Lodge and is available for qualifying business engaged in manufacturing, research and development and storage of goods used in interstate commerce. For more information on any of these programs, contact the City Administrator at (620) 886-3908 or by FAX (620) 886-3900. E-mail at cityclerk@cyberlodg.com
Medicine Lodge Healthcare Services
Healthcare services are amazingly complete for a community of our size. Modern healthcare facilities and equipment are available at Medicine Lodge Memorial Hospital and Physicians Clinic. Two family practice physicians, one general surgeon, one Physicians Assistant and one nurse practitioner make primary care easily accessible. The Hospital and Clinic offer a wide range of services including outpatient surgery, physical therapy, diagnostic lab and x-ray, skilled care and intermediate care to name a few. Other specialty clinics are available such as: Orthopedics, Cardiology and Audiology. A comprehensive County operated Home Health Agency and Public Health Department offer: in-home care, (both skilled and assistance in the activities of daily living), immunizations, blood pressure checks as well as other health services. These agencies also work in conjuction with South Central Coalition for Public Health. Mental health services are available through Horizons Mental Health Center. You will find that virtually any health service that is needed is available from local providers or can be easily arranged. For information about the Physicians Clinic email Dr. R.W. "Pete" Meador. For information about local surgery contact Dr. Don Ransom.