Updated April 25, 1999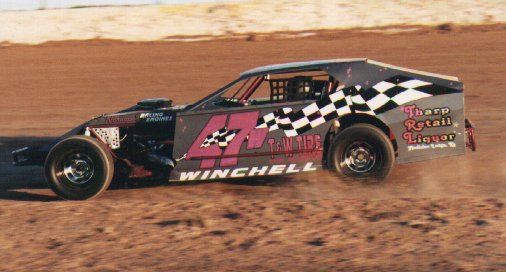 Photo by Mike Hoffman, Enid, Ok
Welcome to the world of Circle C Racing. I am Caren Winchell of Medicine Lodge, Ks. Dale (my husband) and I race IMCA Modified and Streetstock division at Enid Speedway in Enid, Ok. Enid Speedway is a 3/8 mile oval dirt track located in north central Oklahoma. Enid is 220 mile round trip pull from Medicine Lodge which is made every weekend from March to October.

We finally made it thru the first season with the modified. It was a very trying year. We ended up doing better than expected with Dale finishing 7th over all and receiving Rookie of the Year in the modified division. We took some time off to recoup from racing, not even touching the cars till after Christmas. It was time needed to try to get it all together again. Since Christmas, we have got quite a bit done. We decided to junk out the old modified and put everything over on a new cage and frame. We purchased a car from Belleville Motor Sports in Belleville, Ks planning on using all our old pieces on it. Well, as our luck goes, almost nothing fit. So we have pretty well ended up with a new car. We were able to use the seat, some guages, & the steering wheel. That's about it!!

While the modified was at a stand still waiting on parts. Some friends and I decided we would tear apart the streetstock to get it ready for the up coming year. I wanted to tear it completely down and put it back on the jig to make sure everything was right before we put it back together. It wasn't too bad but we decided to build a new streetstock also. It will be a Beckham Motorsports car out of Enid, Ok. It isn't all done yet, but hopefully before too long (maybe the middle of May), we will have it on the track. It will basicly be just like our old streetstock but with a few modifications.

Right now, our plans are to run the modified most of the time and save the streetstock for speciality races. It's really just too much on both of us to run both cars the same night. But will probably be some times when we will and wonder if we are both crazy. (But sometimes a little crazy is kind of nice!)

This is Dale's sixth season of dirt track racing. (Gee, it doesn't seem like that long!) He jumped in with both feet and bought a streetstock instead of starting at the bottom and working up. In Enid, the classes are Cruisers, Ministocks, Factory Stock, Streetstocks, Prostocks, and IMCA Modified. The first season, Dale raced only one or two weekends a month. The second year, he finished 5th over all, the third year he finished 4th and was second half champion. His fourth year, he finished 2nd in points. It was a battle well fought. This last year, we ran the modified mostly, finishing 7th in points and taking Rookie of the Year. Dale had some trouble adjusting back and forth from the modified to the streetstock. Seemed like he would just get used to one when he would have to crawl into the other. But over all, I think it will make a better driver out of him.
This new, the new car (modified) is handling so much better than the car last year. Dale is geting more confident in it and I'm finally getting it dialed in. Yes, I said, that I'm (Caren) getting it dialed in. With Dale being a truck driver, he's gone about all week. Just home on weekends. So, it was left up to me to learn how to work on it. I really love it. Most of my time is spent in the shop now in the evenings. There is still somethings I can't do but with each year (and experience) I'm learning a lot. If you want to know more about that story, read the "Wives" page and "Caren's" page below! I've probably become more comfortable in the shop than in the house. I'm always saying "I need a wife". Someone to do the cooking, cleaning, laundry, etc. (quote "woman's work"). All that stuff I hate to do anymore. So then I can spend more time in the shop. Dale says if I had a stove and bed (already have a refrig) in the shop, I'd never come into the house. I tell him he's wrong. I don't need a stove, then I'd have to cook!!!! But I would need my computer.
I have developed this web page in hopes of creating an atomosphere similar to that of our racing shop. Almost every night, someone is stopping by to do a little bench racing, or a lot of bragging on how well they did the weekend before, or to ask a question or two, or to have their car scaled (well, we can't do that on the internet), or just talk racing. So feel free to leave a message to introduce yourself, let us know how you are doing, to ask questions or give answers, or just to get to know each other better. I always try to answer any mail or people who sign my guest book but I have to apologize, this winter and spring has been very busy and I didn't get back to a lot of you. I'm sorry. Try again and I promise to do better!!!!!

Also, if any of you have your own racing web pages, send me your page address and maybe we can link together. With the internet becoming so large, it is to everyone's advantage to link together to get better coverage across the nation.
Below is the rest of the pages of my home page. Just click the button of the one you want to go to next.



or even better, give me a call on ICQ. My number is #27462771.

I try to be on every night after the work on the race car is done.
I'd love to chat with you.


click here to return to ChasinRacin
| List all sites | Join | Random |
This Oklahoma Race Teams member site is owned by 003.

FastCounter by LinkExchange
-->