(click "Medicine Lodge" to return to home page)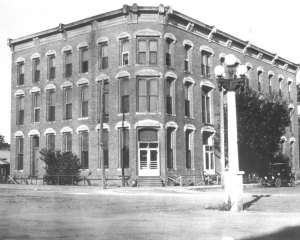 Lethal love at The Grand
(Editor's Note: The following story comes from the Book "Meandering - Medicine Lodge: The 1880's" by Beverly McCollom. The book can be purchased at the Medicine Lodge Stockade Museum.)
Poor Lily Quinn. The biggest mistake she ever made was getting involved with Frank Lockwood.
Frank E. Lockwood, until January of 1885, was a conductor on the Southern Kansas Railroad. He was well known as a heavy drinker, a willing brawler, and an untiring lover by his friends in the refreshment parlors of Medicine Lodge, where he spent most of his time when the train was in the city. Frank was the quintessential party animal of his day.
Lockwood lived in Wellington, the city that was headquarters for the railroad, with his wife and his mother. His future with the Southern Kansas was pretty well assured, since his sister was married to the superintendent. But Frank was looking for something more exciting.
The possibility of being able to enjoy the good life and find some excitement came with the bufiding of the Grand Hotel in Medicine Lodge. A group of stockholders in the city was building this lavish new hostelry, and it needed someone to manage it.
Frank approached his Wellington friend, Ben Phillips, who had had some hotel experience, about becoming proprietors of the new Medicine Lodge hotel. They convinced the stockholders that they could do the job, and early in 1885 Frank put his life on the rails behind him and began to get the Grand Hotel ready for its big opening.
By mid-February, 1885, Lockwood and Phillips were rapidly putting their hotel in shape, and they expected to be able to open about the 25th of February if the silverware arrived. The furniture was all in place, and the Grand was as elegant as could be found in the west.
It turned out that the gala opening was in March. A festive crowd at the Grand enjoyed a delectable supper and good music, and everyone danced until three o'clock in the morning. The new proprietors, Lock-wood and Phillips, were found to be courteous gentlemen of experience and ability, and everyone wished them success.
By April Frank Lockwood was showing his wild streak. Rumor throughout the state was that there had been a killing at the Grand Hotel in Medicine Lodge, that one of the hotel proprietors had killed a man. The Cresset editor investigated the rumor and came up with this factual story.
Some time ago Mr. lockwood, being in a sportive mood, desired one of our colored citizens known as "Matt" to execute a dance for the amusement of such spectators as happened to be present. Matthew objected to the song and dance business, whereupon lockwood drew his six shooter and persuaded Matt to give a jig or two, which were executed with grace and agility. Probably out of this circumstance grew the following account, which we clip from the Wellington Stand-ard and which has perhaps been published in a hundred other papers in the state.
"The report was brought to this city Monday night by a runner who came in from the west that Frank Lockwood, one of the proprietors of the Grand Hotel at Medicine Lodge, had shot and killed a man in that place. The particulars as we learn them is about as follows. Several men had assembled in the hotel, and this one being boisterous was ordered out by Mr. lockwood. This roused his anger, and he pro-ceeded to secure a shotgun and on his return to the hotel swore he would shoot Lockwood, but was persuaded by his friends to desist from this, and he finally put the gun away and went home. But once alone, he seemed unable to control his anger, and the second time started for the hotel armed with the shotgun, and on entering the hotel he notified Mr. L. that he was going to shoot him, whereupon the latter drew his revolver and fired the fatal shot. We understand no arrests have been made."
Ben Phillips had had enough of his partner's antics and decided to retire from the hotel business in June of 1885. Frank then took Jim Fleming as his partner at the Grand. Jim was a local druggist and friend to all the thirsty cowboys.
Frank's wife moved to Medicine lodge, and he seemed to have toned down his act for a while. Except for his accompanying his ailing wife to an eye doctor in Kansas City, Frank pretty much stuck to business at the hotel.
There was some excitement at the Grand in February of 1886. Frank played the hero.
A young couple had had a lovers' quarrel. On Saturday night the young lady, who lived in the country, and her girlfriend went to the skating rink. The former lover also appeared at the rink, slighfiy under the influence, and proceeded to make himself obnoxious by his atten-tions, which were spurned by his former lady love. The young lady and her friend were staying at the Grand, and as soon as the skating was over at the rink, they went to the hotel. The young man had become desperate. He secured a revolver and went to the hotel with murder and suicide on his mind. He went upstairs in the Grand and started to argue with the girl at the door of her room.
Frank lockwood heard the commotion and went upstairs. He asked the angry young man to leave.
The next morning the young lover returned to the hotel and went upstairs once again. Landlord Lockwood followed him and this time was not so gentle. Frank slugged the young man, who, after getting up off the floor, shot down the stairs to the hall below, ran out the door, and disappeared from the vicinity of the Grand Hotel.
Lockwood's life took a downhill turn that spring of 1886. He partied more than he tended to business, to the chagrin of his partner, Jim Fleming. There were arguments between the partners and troubled finances at the Grand.
The difficulties at the hotel were well known in town, and at one point Harry, a black man who ran a laundry, made a proposition to Lockwood to kill Fleming for him. Frank immediately knocked Harry down. Then Harry made threats against Lockwood — and was promptly arrested for carrying a conceaied weapon. He was kept in jail overnight and told to leave town in the morning. In another barroom scuffle, Frank strained his arm and broke one of the small bones in his wrist.
February of 1886 had aiso heralded the arrival of two new dining room girls at the Grand — Lily Quinn and her friend, Mamie Whelan.
Lily was a quiet, refined girl, about 18 years old, who told everyone she had come to Medicine Lodge from Junction City, Kansas. She had a lot of personaiity and was a good conversationalist. She was very popular among the guests and was a definite asset to the hotel's dining room.
As people got to know Lily, they learned that her real name was not Quinn, that she had come from a weaithy southern family, that she was a graduate of Vassar, and that she had changed her name so her relatives would not know where she was. Her parents were dead.
That spring of 1886 Frank Lockwood and Lily Quinn became lovers.Their escapades were the talk of the town for several weeks. The affair was all-consuming for Lockwood, and he quit tending to business at the Grand entirely. The hotel went into receivership. The Lockwood- Fleming partnership was dissolved in June.
Frank left Medicine Lodge. His poor wife, who had the respect and friendship of everyone in town, had gone to Ottawa, Kansas, to live with her mother. Frank just sort of wandered around, staying in Winfield, Ottawa, and Kansas City.
All this had been devastating for Lily Quinn. She had been seduced, and then had become completely infatuated with Frank Lockwood. The 18-year-old's love for the rogue verged on insanity.
Lily continued to work at the Grand, but it was no secret to people in Medicine Lodge that she and Lockwood met frequently and that they corresponded. Lily and her friend, Mamie, eventuaily moved to Winfield and worked at the Bretton House.
On Friday afternoon, November 12, 1886, Frank Lockwood registered at the Bretton House in Winfield as "F. E. Lockwood, The World." Lily joined him that night.
At 5:35 a.m. on November 13, guests on the third floor of the hotel heard shots. Since Lockwood used to shoot out of his hotel window to amuse himself when intoxicated, no one paid attention at first. Finally someone notified the desk clerk, who cailed the city marshal. He knew that Lockwood was in room 23, where the shots were fired.
When they broke down the door, the marshal and the clerk saw Lily lying on the floor, her head blown open and a pool of blood around her.
Frank Lockwood was lying on the bed with his head and shoulders hanging over the bed rail. A stream of blood was running down his face and arm to the floor. He had been shot in the left temple, direcfiy over the left eyebrow. (The Cresset later reported that no one in Winfield paid any attention to the wounded man until his friends from Medicine Lodge arrived; they reported that Lockwood was left lying in his blood from four o'clock in the morning until eight in the evening; no one had called a physician.)
Lily was dead. She had used a 38-calibre Colt self-acting revolver. She had borrowed it from a local man the day before, claiming she wanted to go out of town target shooting with a friend. She had gotten up that morning, had dressed, had shot Frank Lockwood while he slept, and then had turned the weapon on herself and had sent a ball through her own head.
Frank remained unconscious untfi late that evening. He had entirely lost his sight in the left eye, and his right eye was closed from swelling. However, he recognized the voices of his friends — Tom Doran, Frank Kline, and D. E. Eldred — from Medicine Lodge, who had gone over to Winfield as soon as they had heard about the shooting. Later Jim and John Fleming, Alex McKinney, and I-Bar Johnson came to be with Frank.
Lockwood talked with his friends, and they reported that he showed remarkable nerve under the severe pain. He complained of pain at the base of the brain and in the right side of his neck.
While Frank fought for his life, a coroner's inquest was held over the body of Lily Quinn.
Lily's friend, Mamie Whelan, testified that the young woman was distraught over her tempestuous relationship with Frank Lockwood. Lily had told Mamie that she cared more for Mr. Lockwood than she did for any other human being, and she was sure he did not care for her. Lily had threatened to kill him.
A note found in Lily's purse was read to the coroner's jury. It was dated October 24, 1886.
Mr. Lockwood — You tell me not to write to you in your own name. Yet, when I do as you ask, you do not answer, which, of course, leaves me in suspense, for how am I to know whether you ever received my letter or not? However, ff I fail to get an answer to this, I shall feel satisfied that you never did. It has been over two weeks since I saw you, and I have written once since then, but, of course, received no reply. I see no alternative but to address you properly, as you evidently do not get them. Frank, what is the matter? Are you determined not to write to me, or not to come near me ever again? If so, be man enough to tell me.
Lily was buried, with not even a dozen friends to bid her farewell; and Frank lingered, attended by Winfield physicians and by Dr. S. M. Kessler of Medicine Lodge.
The doctors removed Frank's left eye because the nerves had been destroyed by the bullet which was imbedded in the bones of his nose. They also removed twenty small pieces of bone from just above the left eye. They believed the ball was lodged in the right side of Frank's neck. They thought his chances for recovery were slim.
Frank continued to survive. The doctors probed his brain — even cut out pieces of it, altering his behavior unbelievably. His friends, his mother and brother, and his discarded wife remained at his side. By the 18th of November the attending physicians were saying that he had even chances for his life.
In mid-December it was deemed necessary to send Frank to Kansas City for more intensive care. He was transferred by train to the Sisters of Charity Hospital, where six of Kansas City's most skilled surgeons bored a hole in his skull — "with the hope that the operation would bring back his reason, which had entirely deserted him," according to the Cresset.
The procedure, itself, was successful, but the completely weakened Lockwood died on December 20, 1886.
The Cresset wrote Frank's epitaph.
Lockwood was of good family, but embarked on a path of dissipation until he met his death. Of him it can be truly said "there lies another victim of demon rum." He had many pleasant qualities, was kind hearted and tender for those in distress, but the baser passion of his nature had got such a hold that it could not be downed.
This is the end of the tragedy. Let the dead bury its dead. But it would be well to notice the lesson taught, and that is crime will sometimes bring its own penalty. In this case the penalty was speedy and terri-ble, yet so, must all be paid.
"Meandering" - Bev McCollom