Sharing Our History
© 1996, 1997,1998, 1999, 2000 Cyber Lodge Internet Services. All rights reserved. Any copying, redistribution or retransmission of any of the contents of this service without the express written consent of Cyber Lodge Internet Services is expressly prohibited.


(click "Medicine Lodge" to return to home page)
The Bank Robbers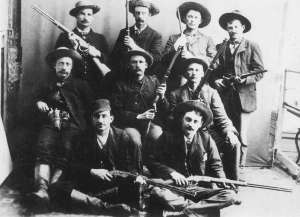 The Posse
Caldwell Marshal and Gang Rob Medicine Lodge Bank
One hundred and sixteen years ago, on April 30th, 1884, a historical, yet tragic event took place. The town of Medicine Lodge was thrown into a state of excitement by the perpetration of murders and attempted robbery.
Shortly after 9:00 a.m., during a heavy rain storm, four men rode into town from the west. There were few people on the streets and the men were able to hitch their horses to the bank coal shed. The bank had been open a short time. Mr. Geppert, the cashier, had just begun work settling the monthly accounts, while Bank President, E.W. Payne, sat at his desk writing. Three of the four members entered the bank, one going to the cashiers window and one going to the lattice door in the rear of the office. When ordered to throw up their hands, Mr. Geppert complied while Mr. Payne seized a revolver. Four shots were fired by the robbers, two were received by Mr. Geppert and one by Mr. Payne. Rev. Friedly, who was standing across the street, heard the shots and alarmed Marshall Dean, who was standing in front of Herrington's & Smith's grocery store. The Marshall opened fire on the robbers and they also returned shots. The robbers broke for their horses and rode out of town. In a few minutes a group of well mounted, well armed, determined men were in hot pursuit. The posse was headed by Barney O'Conner, Vernon Lytle and Wayne McKinney.
Those that remained in town rushed into the bank only to find Mr. Geppert laying dead in the vault, weltering in his blood with two holes in his chest. Mr. Payne was lying near the vault groaning with pain. The pistol ball had entered behind his right shoulder blade, probably grazing his spine. Hope for his survival was doubtful.
The pursuing party first was the robbers beyond the crossing of the Medicine Lodge river south of town. When spotted, the robbers turned and opened fire and several exchanges occurred. While the fighting was taking place, C.J. Taliaferrow and one or two other members of the posse circled to the south and cut the robbers off. The robbers were forced to leave their horses, when one of them gave out, and took refuge in a canyon, three or four miles south west of town. To prevent escape the posse surrounded the canyon while George Friedly went to town for reinforcements. Within a short time every gun, revolver, horse and mule was on its way to the canyon. However, before the reinforcements arrived, the robbers had surrendered. The captors were surprised to find that the robbers were all well known. The leader of the gang was Hendry Newton Brown, Marshall of Caldwell; the other three were Ben Wheeler, Assistant Marshall of Caldwell; William Smith, a well known cowboy who worked for the T 5 Range; and John Wesley (alias Harry Hill) another well known cowboy who worked for Redwell and Clark.
Of these men, Brown was the only one who had acquired any notoriety. His history began with his connections with "Billy the Kid" during the Lincoln County War. Brown also served with Billy the Kid during the ambush at McSween's Store during the raids in New Mexico. He was also a companion of the noted deperado during some of his most exciting adventures. On July 5th, 1881, the Caldwell City Council appointed Brown as Assistant City Marshall. Prior to this he had been the City Marshall of Tuscosa, Texas. Brown held an excellent reputation although never acquired habits which some seem to think are necessary to make an officer popular with the "boys". While assistant marshall, Brown had numerous items appear in the newspaper attesting to his fearlessness. For a short time during October of 1882, Brown left the police force and went to the "Strip" to hunt for rustlers. After rejoining the police force in the middle of October 1882, Brown was appointed as Marshall. He was presented with a gold plated Winchester by the citizens of Caldwell, as token of their appreciation.
Several weeks after Brown was appointed Marshall, Ben Wheeler, an old friend of Browns, was hired as Assistant Marshall. He was thought of as a good officer but was the man who fired the shots that killed George Geppert. Afterward he was thought of as a cold blooded murderer.
When the part returned to Medicine Lodge, they were placed in jail and were surrounded by a crowd of angry citizens who cried "Hang Them!". Later that night, three shots fired rapidly broke the silence. By this signal a crowd of armed men marched to the jail and demanded the prisoners. The sheriff refused but the sheriff and the posse were overpowered and the jail doors opened. The prisoners in the cell made a sudden dash for freedom and shots rang out from everywhere. Brown ran a few steps from the jail and fell shredded with gunshots. Wheeler was then captured and was badly wounded. Smith and Wesley were captured at the jail door. Wheeler, Smith and Wesley were taken by the crowd to an Elm tree in the bottom east of town and told that it there was anything they would like to say, to say it now for their time of life was short.
At the last Wheeler showed weakness and begged for mercy. Wesley was also upset, but answered by requesting that his body be sent to friends in Vernon, Texas. When the ropes were ready they were fastened around the robbers' necks and were tossed over a limb. In a few minutes the bodies hung swinging in the wind.
The coroner's verdict was as follows:
Hendry N. Brown came to his death by gun or pistol shots; Ben Wheeler came to his death by gun or pistol shots or hanging; Willie Smith came to his death by hanging; and John Wesley came to his death by hanging.
George Geppert who died at the scene of the crime. He leaves a wife and one child, Frank S. Geppert. He was a man of excellent business tactics and was a well respected citizen. His death aroused the deepest sympathy. His funeral took place Friday, May 2nd at 3:00 p.m. at the Presbyterian Church. Services by Elder D.A.Quick, the pallbearers were Judge B. Lacy, H.C. Thompson, C.W. Ellis, D. VanSlyke, A.L. Freeman and D. Smith.
E.W.Payne died at 10 o'clock on Thursday, May 1, 1884, and was buried at 10 o'clock the following day, under the auspices of Delta Lodge No. 77, A.F. and A.M.. of which he was a member.E.W. Payne left behind his wife, Susan A.Payne and nine children. He was 38 at the time of his death and besides being the Bank President he also owned the local newspaper. Before his death, Brown had written a last letter to his wife in Caldwell. It follows: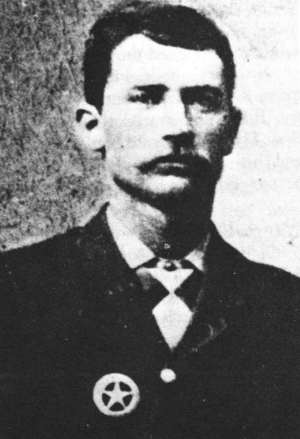 Henry Brown's Letter

Medicine Lodge

April 30, 1884 Darling Wife: I am in jail here. Four of us tried to rob the bank here, and one man shot one of the men in the bank, and he is now at his home. I want you to come and see me as soon as you can. I will send you all of my things and you can sell them, but keep the Winchester. This is hard for me to write this letter, but it was all for you, my sweet wife, and for the love I have for you. Do not go back on me; if you do it will kill me. Be true to me as long as you live, and come to see me if you think enough of me. My love is just the same as it always was. Oh, how I did hate to leave you on last Sunday eve, but I did not think this would happen. I thought we could take in the money and not have any trouble with it; but a man's fondest hopes are sometimes broken with trouble. We would not have been arrested, but one of our horses gave out and we could not leave him alone. I do not know what to write. Do the best you can with everything. I want you to send me some clothes. Sell all the things that you do not need. Have your picture taken and send it to me. Now, my dear wife, go and see Mr. Wezleben and Mr. Nyce and get the money. If a mob does not kill us we will come out all right after while. Maude, I did not shoot anyone, and did not want the others to kill anyone, but they did, and that is all there is about it.

Now, good-bye, my darling wife.H.N. Brown

This proves that they did not expect to pay too great a penalty for their crime. Sheriff C.F. Rigg, collected the personal items of Brown and intended to send them to Caldwell. However, before he did someone stole the Winchester Brown prized so highly. It was later located in a collection in Texas. Brown was presented the Winchester after bringing peace to the dangerous streets of Caldwell, Kansas. Killers were often times hired to keep other killers in line. Unlike most killers, Brown had a different personality. It was known that he did not drink, smoke, or chew. Brown settled down, bought a house in Caldwell and married a local girl. It was after this he was presented with the engraved rifle in January, 1883. The engraving on the rifle reads: "Presented to City Marshall (sic) H.N. Brown for valuable services rendered on behalf of the Citizens of Caldwell, Kas."

The gun has now been acquired by the Kansas State Historical Society in Topeka, Ks. on I-70. Kansas traded different artifacts to the Arkansas Historical Society in the equivalent amount of $40,000.00 to acquire the Winchester. If you are at the museum and would like to see the gun, the curator can remove it from the vault for you to view. R.L. Wilson oh Hadlyme, Conn., an authority on western firearms and honorary curator of firearms for the society, said the gun is one of the most interesting and historic of Winchester arms and "stands as a classic collector's item museum piece from the American west's most wild and wooly days."