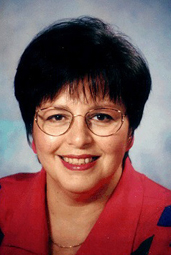 ~Carla~
Well, I guess it's time that I got on the band wagon and submitted my profile....lol

Picture this.... The year was 1953, Toronto, Ontario, Canada, mid March, blowing wind and snow (typical weather) when an Italian bambina walked off the plane that delivered her into her Daddy's arms. Were her first words..."Where's the pizza?" NO!!! they were "Mamma...who isa thisa stranger? I'ma scared, letsa go backa!!" My poor father...I vaguely remembered him, hadn't seen him in two years. So who was this little simpatica bambina? Sofia? (The Golden Girls) No, it was ~Carla~. LOL

Growing up proved to be a very interesting experience... Italian upbringing at home in all aspects...language, discipline, traditions and expectations... then there was the outside world..hehehe... try juggling the two especially when you're in your teens. Need I say more!

Well, the little girl grew up...met her Prince, married in summer of '72; moved north to North Bay ...more wind and a lot more snow... LOL...

1976 brought blessings.. The arrival of our only child, Matthew whose name means "Gift from God," and that he was...he became our pride and joy!!! Along the way we accumulated a variety of pets...and at last we have two adoreable..yappy little dogs..named Missy and Yoda..(ask Roadmap about them..hehehe) and see our homepage for pics.

Matt grew up...as all children do... sometimes more quickly than others.... and on July 24, 1997 Matthew and his fiancee Christine presented us with a bouncing bundle of joy...our first grandchild.. Logan Daniel, 8lbs. 3oz. Needless to say...we are doting grandparents...and very supportive loving parents. They're doing very well juggling parenthood, school and work. Both are in their 3rd year of university...so they are very busy and very organized.

Hubby's retired; drove me nuts the first year! So, I told him to get a life!!! LOL... So until Carla decides to retire, he decided to enroll at Canadore College and major in Print Journalism. Does he powwow? Gosh no!!! he just gets a kick out hearing me giggle, laugh and talk about my Cyberlodge family. He uses the computer to research, compile and write his articles for his courses... not to chat!!! Heavens forbid..hehehe

I discovered powwow quite by accident in September of 1996.... Well sort of accident..I had heard there were chat rooms and I searched and searched! Entered a chat room called the Dew Drop Inn...and was welcomed by some wonderful people. Elstewie was the first to say hello and make me feel at home.. there was EZ2PLZ.... whom I called the "Sheriff" He took care of you...and made sure everyone behaved, hehehe... felt safe there ... then there was Mystic...a gal who's warmth and kindness reflected in her postings, Kitiara, Shannara, Myrtie, Stocker.. Hoot Owl....Merak...Roadmap.... and many more wonderful friends that made me feel a part of their family. I discovered some of my cyberfriends lived near... Northern Sunshine...Fizzz....Cuddles...Katie...and Terri. This past summer I had the pleasure of meeting quite a few including Hoot's spouse Linda. Now there are faces to the names; and chatting has a new meaning as I visualize facial expressions, hear their laughter and exchange anecdotes.

Thanks to Cyber...we've built our new home the Cyberlodge; yes it's just like home. The sound of a crackling fire, aromas of freshly baked apple pie, hot apple cider, popcorn, tacos, chips, veggies and dip, pop, yappy dogs, frisky cats, the list is endless. It's where we meet, chat, laugh, debate, offer moral support and often a pat on the back etc.

Our homepage addy: http://www.efni.com/~montague/homep~11.htm ; it's very very basic. I'll advise you when it's totally upgraded with new pics etc. Hopefully sometime this fall...

Well, enuf, is enuf...whew...LOL... so it's time to say goodbye...so long, farewell..it's time to say goodnight.... See you at the Lodge!! Hugs & Kisses... Ciao.. God Bless!