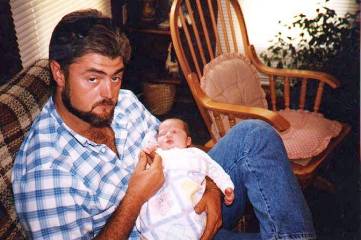 31 yrs old, married to Special*k :)
We live in western Kentucky, nice quiet small town.
Hobbies include spending time with my family, fishing, camping, HO scale model trains, just starting to collect small farm tractor toys.
I work alot sometimes too much to chat but manage to squeeze in a little time here and there.
Currently building a new house (almost complete) arrrrrgggggg and will NEVER build again!!!!
We have one son he's 6 now and we also have something on the way, (due Mar). :)
C*ya in the lodge......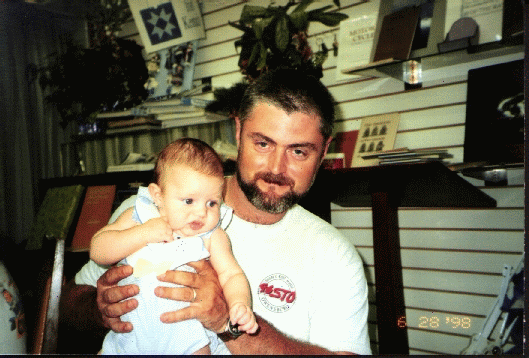 FULL NAME: Tim
NICKNAME:Tim
BIRTHPLACE:Valparaiso Indiana
ASTROLOGICAL SIGN:Picses
CROUTONS OR BACON BITS:bacon bits
SALT OR PEPPER:pepper
FAVORITE SALAD DRESSING:ranch
DO YOU DRINK/WHAT:Tea
ARE YOU A SMOKER/NON-SMOKER OR QUIT SMOKING:smoker
HAVE YOU HAD YOUR APPENDIX OR TONSILS REMOVED:yes
SHAMPOO OR CONDITIONER:shampoo
HAVE YOU EVER GONE SKINNY DIPPING:yes
DO YOU MAKE FUN OF PEOPLE:sometimes
HAVE YOU EVER BEEN CONVICTED OF A CRIME:yes
YOUR GREATEST FEAR:heights
YOUR GREATEST JOY:family
YOUR BIGGEST REGRET:Not building a 2 story house
THE BEST DECISION YOU'VE EVER MADE: Marriage to K
CAT OR DOG LOVER:neither
PETS:1 dog and about 5,983 guppies
FAVORITE TYPES OF MUSIC:classic rock
YOUR DREAM CAR:66 galaxie conv.
TYPE OF CAR YOU DRIVE NOW:pontiac
YOUR DREAM VACATION:alaska
WHAT WAS YOUR FIRST CAR:T-bird
FAVORITE TOOTHPASTE:close-up
FAVORITE FOOD:smoked chicken
DO YOU GET ALONG WITH YOUR PARENTS:yes
FAVORITE PLACE TO CHILL:home
FAVORITE PLACE TO VISIT:too many to list
FAVORITE ICE CREAM:rocky road
FAVORITE SOFT DRINK:dt dew
FAVORITE TYPE OF FAMILY GAME:dunno
WHAT IS YOUR BAD TIME OF DAY:6 p m
ADIDAS, REEBOK OR NIKE:some nike, mostly 15 dollar shoes from Payless
FAVORITE PERFUME OR COLOGNE:none
FAVORITE COLOR:green
FAVORITE SPORT TEAM:Boston Celtics
FAVORITE SUBJECT IN SCHOOL:history
FAVORITE BOOK READ:various versions of the bible
LEAST FAVORITE SUBJECT IN SCHOOL:home economics
FAVORITE TV SHOWS:TWC-CNN
FAVORITE MOVIE YOU HAVE SEEN RECENTLY:toy sotry 2 (only movie i've seen recently)
FAVORITE MOVIE OF ALL TIME:ten commandments
FAVORITE SPORT TO WATCH:UK bastketball
FAVORITE PARTICIPANT SPORT:none
ANYTHING "DIFFERENT" ABOUT YOU :nothing out of the ordinary
INTERESTING FACT ABOUT YOUR CHILDHOOD:I was very poor as a child, and really appreciate the things I have acquired over the years.