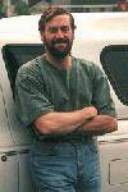 My real name is Jim and I was born and raised in Illinois. I now live in Aurora, Illinois and work in the consumer electronics industry as an electronic tech.

I build and repair PC's as well as doing digital audio mastering and mastering cd's for bands and singers to use as demos. I also repair VCR's, Stereo's, etc...

I am 39 years young...no kids and 4 cats...

In the beginning there was the net, and the cyber junkies saw that it was good. Next came powwow and the intelligent cyber junkies saw that it was better than good. So we downloaded it. And indeed it was good. Enter your humble story teller ME!!!

A long time ago I downloaded pow (I think ver 1. something) In 1994. I used it three times and no one would chat with me. Stupid program I thought. Later on with several upgrades to my PC and operating systems I downloaded the new powwow. And still no one would talk to me. NEWBIE they laughed. Very very stupid program I thought. At that time I was using my real name. A name so rare that no one would be on this stupid program using MY name (my name is Jim by the way). I mean how many Jims could there be on the net and on this stupid pow thing that no one will talk to you? Just before I was going to dump pow from my system I figured I would try one more time (lucky me). I ran into mystic on the LAST 100 USERS screen. She actually talked to me!!!! And didn't care that I was a pow newbie!!! And after a few weeks she led me to the dewdrop inn. Wow, my first conference. And it was good (come on you remember the old dew days). I met some great people there, (Shan, Redneck Girl, Country Girl, Luisa, Flit,EZ, Els,Hoot) to name a few. But things got sticky when there were 4 Jims in the conference at a time. I knew I needed a real handle. A friend at work who knew of pow, thought a while then out of the clear blue sky (in our lunchroom) he said "Why not Dragon?" I know you collect puter, clay dragon figures and you have a lot of dragon prints". And so it was. Dragon was born. And all the children of the village sang their praise. And the people were happy. True story (really).