I shall begin my bio by thanking you all for accepting me into your group. It is difficult to be the new person in an established community, but I have been made to feel comfortable fr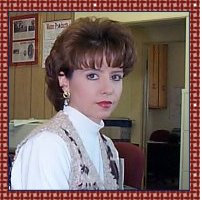 om the beginning.
THANKS!

Hello! I am known as "TINK" in this wonderful cyber world. When I first downloaded powwow, in November of '97, I came to the "box" for inserting my handle and I went blank! I had never had a nickname (not any that people called me
to my face, anyway) so I didn't know what to choose. I knew I didn't want my real name to be my handle so I chose "Lynn" which I borrowed from that little green sign on the corner of my street. Very original, huh? Upon finishing my installation, I did what any newbie would do and entered the warm, friendly community of "New Users."
I watched for a while as the people gave each other huggerz and kotc's and did a lot of lol-ing. "What in the world is going on here?" I thought to myself. (I hadn't discovered the "hear" switch yet). After a few minutes, I finally mustered up enough courage to post my "hello." Perhaps one or two people said hello back and then continued on with their conversations. I had a lot to learn and since I was in the community designed to help new users, I proceeded to ask my questions. After a few more minutes, I decided that my text was surely invisible to everyone in the room and I left that room with my tail between my legs. :(
Chatting wasn't for me. That attitude lasted for an entire hour. I decided I would go back to the on-line community guide and try other rooms before I would allow myself to give up. After all, I don't smoke or drink so I needed some kind of addiction! Finally, I found myself in Powwow Annon. Once again, I watched the room for a bit and then someone in the room mentioned "lurkers." I hadn't spoken in the room up to this moment, but I had to know what a lurker was, so I asked! That question got me my first Powwow buddy, "Preacher," and my original Powwow home. Before I knew it, I had a list full of buddies and my much needed addiction.
For a good six months I "LIVED" for Powwow! It was also in Annon that I met the person responsible for my interest in the Lodge, RaginCajun. I would give just about ANYTHING to remember our initial conversation in instant messages. But, alas, all I can remember is he was being a smarty pants and I was thinking he was some nut that I needed to hide from! However, curiosity got the best of me and before I knew it the crazy nut was my very bestest buddy!
After a while, more and more Lynns were joining the chat scene so I decided it was time to change the ol' name. A buddy of mine suggested "TINK", as in short for Tinkerbell, because I am a rather small person...pixielike if you will. So TINK I have been ever since.

Now about the real life me. My real name is Sherry and I live in a very small town in Arkansas. How small? Just don't sneeze if you are passing through--you'll miss it. (Yes we wear shoes and have indoor plumbing...heck, we even have computers!) The most exciting thing to happen in this town was getting a McDonalds and a Wal-Mart Supercenter.

I am 31 at the time that I type this, (2-13-98) but in just a couple of weeks I will have to say 32. YUCK! I am one of those people that have a difficult time dealing with larger numbers! I have been married for eternity (since I was 17 3/4 years old) and have two wonderful children. My daughter is 11 and my son is 4. Quite an age difference, huh? My son was one of those surprise babies, but the best surprise that ever happened to me! Since I am not an extremely interesting person, I will just tell what I do for a living and then brag on my kids some more. I work as a city employee in the water department. My official title is City Utilities Clerk, but am affectionately referred to as "Water Witch." You had better pay your bill on time or you'll have to deal with ME!!! I am also responsible for maintaining the city's web site which is my favorite part of the job.

My daughter is multi-talented. She is an honor student, a wonderful dancer, polite and caring and is good at anything she attempts to do, not to mention a very beautiful little girl inside and out. I could not have asked for a more perfect child (except in the room cleaning department). My son is also very intelligent, but stubborn, mean and selfish. He is also Mommy's baby and the apple of my eye. :o) We have lots of work to do on his attitude- hehehehe.

I suppose I have revealed more than anyone really cared to know at this time so I shall stop now. I HAD a homepage but have taken everything off of it and haven't had time to prepare a new one. I'll give the address out when I have something to look at!
FULL NAME: Sherry Kathleen

NICKNAME: Tink

BIRTHPLACE: Chicago, Il

ASTROLOGICAL SIGN: Pices, not that it matters to me one bit!

CROUTONS OR BACON BITS: Bacon bits if they're real bacon!

SALT OR PEPPER: Pepper... TONS!

FAVORITE SALAD DRESSING: Sundried tomato! SLURP!

DO YOU DRINK/WHAT: Doesn't everyone? FRESCA!

ARE YOU A SMOKER/NON-SMOKER OR QUIT SMOKING: Non-Smoker... the
stuff is disgusting!

HAVE YOU HAD YOUR APPENDIX OR TONSILS REMOVED: Nope... only
wisdom teeth and babies :o)

SHAMPOO OR CONDITIONER: Both

HAVE YOU EVER GONE SKINNY DIPPING: Never

DO YOU MAKE FUN OF PEOPLE: Um... well... I TRY not to...

HAVE YOU EVER BEEN CONVICTED OF A CRIME: Never

YOUR GREATEST FEAR: That's a secret right now...

YOUR GREATEST JOY: Watching my children have a good time.

YOUR BIGGEST REGRET: That's a secret too!

THE BEST DECISION YOU'VE EVER MADE: Buying a computer???

CAT OR DOG LOVER: puppies and kittens... :o)

PETS: Cat and 2 dogs!

FAVORITE TYPES OF MUSIC: all kinds... 'cept country and rap!

YOUR DREAM CAR: Convertable, bright yellow Mercedez

TYPE OF CAR YOU DRIVE NOW: 98 Honda Civic
YOUR DREAM VACATION: Just to have a vacation would be a dream for me

WHAT WAS YOUR FIRST CAR: 1978 Pontiac Astre... EWWWWW!!!

FAVORITE TOOTHPASTE: Auqa Fresh

FAVORITE FOOD: Mexican

DO YOU GET ALONG WITH YOUR PARENTS: Yes, now that I'm grown and out of
their house.

FAVORITE PLACE TO CHILL: In a tub full of hot water!

FAVORITE PLACE TO VISIT: the mall!

FAVORITE ICE CREAM: mint chocoate chip

FAVORITE SOFT DRINK: Fresca

FAVORITE TYPE OF FAMILY GAME: do family's play games? Nintendo? :)

WHAT IS YOUR BAD TIME OF DAY: 5:30 p.m... after work while trying to get
supper...

ADIDAS, REEBOK OR NIKE: Nike

FAVORITE PERFUME OR COLOGNE: Perfumes and colognes make me sick...
allergic!

FAVORITE COLOR: yellow

FAVORITE SPORT TEAM: Arkansas Razorbacks, of course!

FAVORITE SUBJECT IN SCHOOL: English

FAVORITE BOOK READ: It's been so long, I don't remember!

LEAST FAVORITE SUBJECT IN SCHOOL: HISTORY!!!

FAVORITE TV SHOWS: too embarrassed to say...

FAVORITE MOVIE YOU HAVE SEEN RECENTLY: haven't seen one recently!

FAVORITE MOVIE OF ALL TIME: no favorites

FAVORITE SPORT TO WATCH: College basketball

FAVORITE PARTICIPANT SPORT: Volleyball even though I'm no good!

ANYTHING "DIFFERENT" ABOUT YOU : Ever met a human door mat?

INTERESTING FACT ABOUT YOUR CHILDHOOD: I was a cry baby! LOL