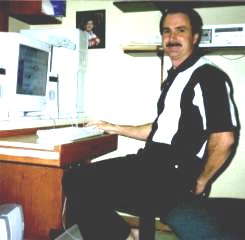 Greetings from the Ragin' Cajun. Most of you remember me by the "clever" handle of David AB. Well.........that's all that I could think of when I started using Pow Wow back in the fall of '96. Actually, at first, I was even more generic. I went by the handle of "David". I kept running into myself in every conference. I happened to stumble into the Dew Drop one evening and sorta lurked for a while. After a time or two, I bravely
offered my input by saying, "Hello". Luisa responded in kind. After another few tries, I was chatting with Cliffhanger, Shannara, mystic, Deb S, Kitiara, Northern Sunshine, ElStewie, and EZ. And of course, within another week or so, I joined a 12 step program to attempt to break my addiction to Pow Wow, because I had found another couple of dozen great people that I could not resist chatting with. The Program hasn't worked yet.

For those who haven't heard me say it before, Ragin' Cajun is the nickname for our local University's (and my alma mater's) sports programs. The USL Ragin' Cajuns ! I graduated at the ripe young age of 42. That's right, you've guessed it. USL stands for the University of Slow Learners. For those who aren't quite sure what a Cajun is, the word Cajun is a corruption of the word Acadian. (there are lots of corruptions down here !) The term Acadian refers to a person descended from the people who were expelled from Nova Scotia, then known as Acadia, in 1755. These people mostly settled in South Louisiana in an area now know as Acadiana. (Not New Orleans....anything Cajun in N.O. is imported from here !) The city where I live, Lafayette, is in the heart of Acadiana. Lafayette is a city of about 110,000 residents, and, believe it or not, it is a great town. Sorta like a
jewel in the sewer. The Cajun culture is alive and well down here and carefully preserved. If any of you are ever in the area, please stop by. You'll be pleasantly surprised. AND, while you're here, if you decide that you really need a Cadillac......well, as they say.......have I got a deal for you !!!

Now the personal stuff. My D.O.B was December 25, 1953 (that's right.....no birthday parties for me). My beautiful wife goes by the handle of "Denise". She is an administrator for a group of 6 kidney dialysis clinics. We have 2 children. Ben is about to turn 15 and Annie will soon be 13. I have been selling cars at the same place for 17 years now. We just took on the Oldsmobile franchise last year after being an exclusive Cadillac dealer for over 50 years. I have had many hobbies, but now I find myself enjoying
fishing and chatting (imagine that) more than most. I do enjoy weight lifting and running, but I don't seem to find as much time for that since I've discovered Pow Wow. I am also a semi-retired, semi-professional musician. I played guitar and sang in a local band for about 12 years but pretty much stopped playing regularly after last Mardi Gras (what do you mean you don't have Mardi Gras where you live ???) We played a wide variety of music, mostly 50's and 60's rock and R&B, some Country, some Cajun. The group was called the "Classic Review". I still play with them on occasion, but I've told them that since we're all so old now that we should change the name of the group to "The Ancient Flatulators" (aka: The Old Farts).

Gee ! This is getting long, isn't it. I'd better stop now, or else there will no longer be any need for any of you to chat with me. Well........see ya' all in the Lodge :)
FULL NAME: David A. Blanchard

NICKNAME: None

BIRTHPLACE: Houma, Louisiana

ASTROLOGICAL SIGN: Capricorn

CROUTONS OR BACON BITS: Both

SALT OR PEPPER: Salt

FAVORITE SALAD DRESSING: Italian

DO YOU DRINK/WHAT: No

ARE YOU A SMOKER/NON-SMOKER OR QUIT SMOKING: Non-Smoker

HAVE YOU HAD YOUR APPENDIX OR TONSILS REMOVED: Tonsils

SHAMPOO OR CONDITIONER: All in one

HAVE YOU EVER GONE SKINNY DIPPING: No

DO YOU MAKE FUN OF PEOPLE: I hope not

HAVE YOU EVER BEEN CONVICTED OF A CRIME: Convicted ? Never !

YOUR GREATEST FEAR: Death of a Child

YOUR GREATEST JOY: Birth of Children

YOUR BIGGEST REGRET: Not going to College out of H.S.

THE BEST DECISION YOU'VE EVER MADE: Still to come, I hope !

CAT OR DOG LOVER: Both

PETS: Cat and Jack Russell Terrier

FAVORITE TYPES OF MUSIC: Classic Rock

YOUR DREAM CAR: One with a high gross profit

TYPE OF CAR YOU DRIVE NOW: I sell them. A different one each day.

YOUR DREAM VACATION: Snow Skiing or Europe

WHAT WAS YOUR FIRST CAR: 1970 VW Beetle

FAVORITE TOOTHPASTE: Green Sparkly stull

FAVORITE FOOD: Seafood (Shrimp and Crawfish)

DO YOU GET ALONG WITH YOUR PARENTS: Dad - deceased Mom - Yes

FAVORITE PLACE TO CHILL: Playing guitar on the swing in the backyard

FAVORITE PLACE TO VISIT: Someplace where I haven't been

FAVORITE ICE CREAM: Blue Bell Pralines and Cream

FAVORITE SOFT DRINK: Rarely drink 'em, but Coke if I have to

FAVORITE TYPE OF FAMILY GAME: None really.

WHAT IS YOUR BAD TIME OF DAY: Waking up

ADIDAS, REEBOK OR NIKE: Whichever works best

FAVORITE PERFUME OR COLOGNE: None

FAVORITE COLOR: RED

FAVORITE SPORT TEAM: Atlanta Braves

FAVORITE SUBJECT IN SCHOOL: History and Philosophy

FAVORITE BOOK READ: Too hard to choose

LEAST FAVORITE SUBJECT IN SCHOOL: Accounting

FAVORITE TV SHOWS: Sports, Politics and Educational programs

FAVORITE MOVIE YOU HAVE SEEN RECENTLY: Matrix

FAVORITE MOVIE OF ALL TIME: Too many.... how 'bout "The Princess Bride" ?

FAVORITE SPORT TO WATCH: Baseball

FAVORITE PARTICIPANT SPORT: Basketball

ANYTHING "DIFFERENT" ABOUT YOU : Born on Christmas Day

INTERESTING FACT ABOUT YOUR CHILDHOOD: I was always the youngest in my class in school.